November Newsletter
https://etawa.org.au/wp-content/uploads/2022/09/jaredd-craig-HH4WBGNyltc-unsplash-scaled.jpg
1707
2560
English Teachers Association Western Australia
https://etawa.org.au/wp-content/uploads/2022/09/jaredd-craig-HH4WBGNyltc-unsplash-scaled.jpg
Professional Development
Registration is now open for our November 30th PD session. This is a practical session supported by the findings of the ETAWA Marking Methods Study….and it includes afternoon tea! You can register here.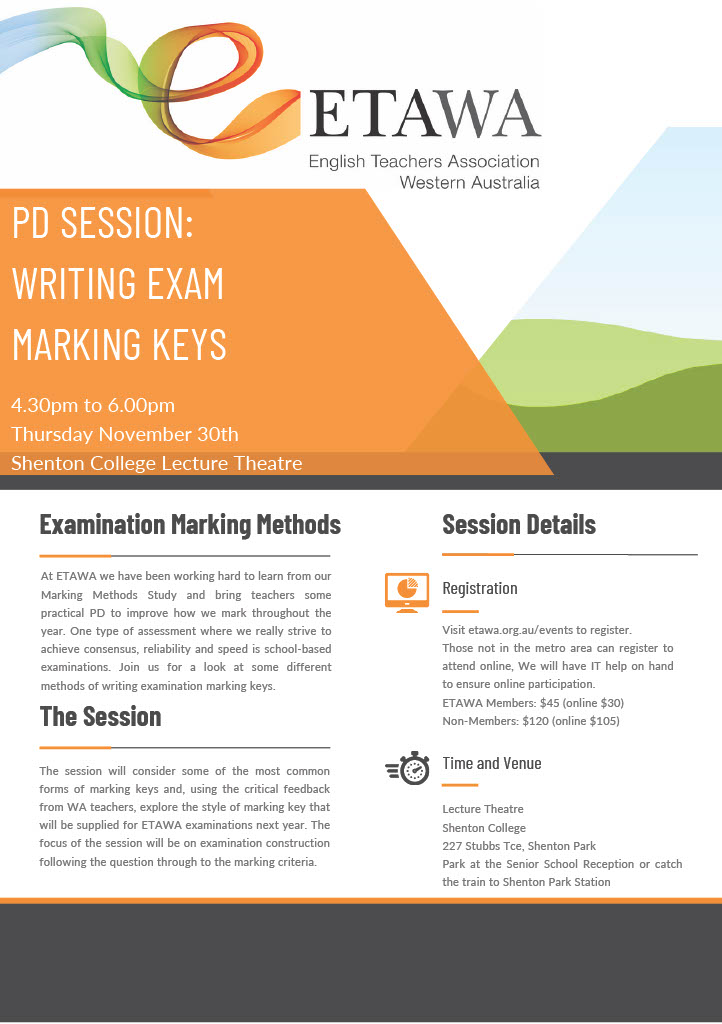 ETAWA Festive Market
We are excited to be hosting a festive end of year celebration for our English teaching community. There will be a range of stalls at the event including representatives from Dymocks Ellenbrook, University of Western Australia Publishing, and The Literature Centre.
To bring this publication into existence we need your help, as well as your students.
If your school uses the ETAWA Year 11 ATAR English Examination, we would appreciate your assistance in collecting some 'good' examples of student responses. We characterise these as responses that have particular merit, such as:
addressing the entire question
providing a thorough analysis of studied texts
creating interesting and complex narratives or arguments
writing with clarity and control
We are not looking for samples from top students. We want to be able to annotate the answer within the publication to show what is being done well and how the response can be improved. We are seeking responses from which average students feel they can learn, rather than responses they feel are beyond their capabilities.
We hope that the Year 11 ATAR English teachers in your school are willing to be involved in selecting such responses for this important publication. Teachers are invited to select whole examination scripts, individual answers, or parts of answers that would make an illustration of a 'good' response.
If you think you can be involved in this publication, please let us know at executiveofficer@etawa.org.au or contact us with any questions you might have.
We have attached a letter to principals and teachers explaining the publication and a student/guardian consent form for selected students, which should also be signed by the school principal or Head of English as their representative. Students who are selected will be awarded a certificate recognising their work and contribution.
Claire Jones
Executive Officer
The Australian Association for Teachers of English offers support for research that has a direct impact on the teaching of English in Australia. The application deadline for research grant proposals has been extended until the 1st of December 2023. Further information about this opportunity can be found here.